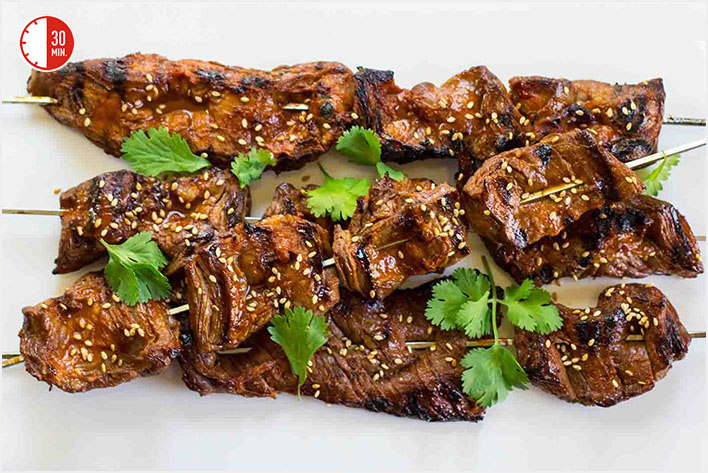 KOREAN BEEF SKEWERS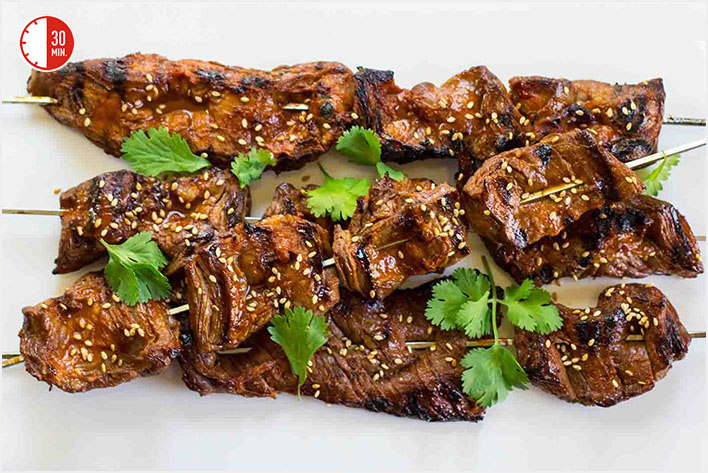 ¼ cup tamari or soy sauce
¼ cup mirin
¼ cup rice wine vinegar
2 tablespoons sesame oil
2 tablespoons gochujang
1 1/2 pounds skirt steak
Canola or other neutral oil
2 tablespoons sesame seeds
Cilantro or mint leaves
Kimchi
Extra gochujang
Cooked rice, optional
Nori
Whisk together the marinade: In a large bowl, combine the tamari (or soy sauce), mirin, rice wine vinegar, sesame oil, and gochujang (or miso) for the marinade. Whisk until the ingredients are well-combined.
Marinate the steak for 20 to 30 minutes: Cut the skirt steak into 2-inch wide strips. Add the strips to the bowl of marinade and stir until evenly coated. Marinate the strips of beef for 20 to 30 minutes at room temperature. If you are using wooden skewers, soak them in water for at least 20 minutes.
Preheat the grill for at least 20 minutes while the meat is marinating. The grill is hot enough when you can only hold your palm over the grill grates for a second or two.
Grill the beef skewers: Thread meat onto the skewers and brush with oil. Grill the skewers for 4 minutes. Flip and grill another 3 to 4 minutes on the second side, until the steak reaches your preferred doneness.
2096 Üröm, Kőbánya út 16.